Imran Khan is one of Pakistan's most celebrated public figures, renowned both for his extraordinary cricket career and bold leap into politics. From his glamorous life as Pakistan's most eligible bachelor and cricket captain to the dramatic journey of building his political party, Imran has led an unconventional and eventful life.
His determination to fight corruption and reform Pakistan's political scene transformed him from a sports icon into a serious political leader. The charismatic former cricket star continues to hold immense popularity, especially among the youth, as a reformist politician committed to his principles of 'justice, humanity and self-reliance'.
Early Life and Family
Imran Ahmed Khan Niazi was born on November 25, 1952 in Lahore to a well-off Pashtun family. His father Ikramullah Khan Niazi was a civil engineer, while his mother Shaukat Khanum was a housewife. He grew up as the only son in a family of four sisters.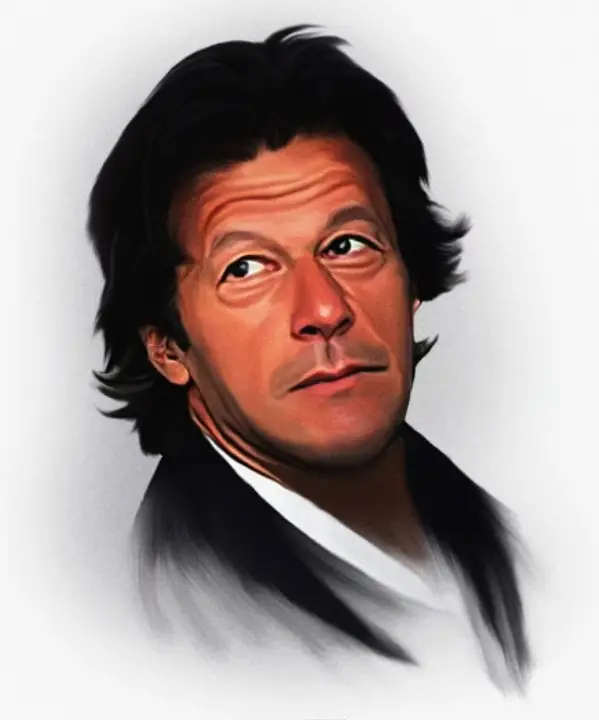 Imran enjoyed a privileged upbringing with his family's mansion boasting manicured lawns, expansive gardens and even a servants' annex. He attended Lahore's prestigious Aitchison College for boys during his formative years.
Being naturally athletic and competitive, Imran was an avid cricket, hockey and football player in school. His prowess at cricket earned him a spot in Aitchison's First XI cricket team. He was also the school's hockey and football captain.
After finishing school in Lahore, 16 year old Imran enrolled at the Royal Grammar School Worcester in England to pursue higher studies. There too, he excelled at sports representing his school in cricket, hockey and squash.
Table 1: Early Life Facts
| | |
| --- | --- |
| Birth Date | 25 November 1952 |
| Birth Place | Lahore, Pakistan |
| Parents | Ikramullah Khan Niazi (father), Shaukat Khanum (mother) |
| Siblings | 4 sisters |
| Schooling | Aitchison College Lahore, Royal Grammar Worcester (UK) |
| Young Imran | Athletic and competitive in cricket, hockey, football |
| Teenage Years | Studied in UK from age 16-18 |
Cricket Career
After returning to Pakistan at age 18, Imran Khan joined the national cricket team in 1971. His raw talent was evident from the start but it took several years to develop into a world class all-rounder.
Imran's lanky physique and ability to swing the ball at high speed made him a potent fast bowler. As a batsman, his flamboyant but gritty style became his signature. His charismatic looks and playboy reputation also brought him immense fame.
After a few inconsistent years marred by injury and poor form, Imran emerged as one of the world's leading all-rounders in 1982. He contributed match winning performances with both bat and ball, cementing his place in the Pakistan team.
Imran Khan was appointed captain of the Pakistan cricket team in 1982. His hard-driving and ambitious attitude transformed the team into one of the strongest sides in the world. Under Imran's captaincy, Pakistan started to notch up Test match wins against top ranked teams.
The pinnacle of Imran's cricket career came at the 1992 World Cup. As a 39 year old veteran, Imran led Pakistan's underdog team to a thrilling World Cup victory, defeating England in the final.
Imran ended his international cricket career shortly after, going out on the ultimate high after nearly 20 years playing for Pakistan. He finished with over 3500 runs and 362 wickets in Test matches.
Table 2: Cricket Career Highlights
Batting Style
Right-handed batsman
Bowling Style
Right-arm fast bowler
Major Teams
Pakistan, Sussex, Worcestershire
Captaincy Record
Test Matches: 14 wins, 8 losses, 25 draws
ODIs: 75 wins, 59 losses
Career Statistics
3807 runs in Tests
3341 runs in ODIs
362 wickets in Tests
182 wickets in ODIs
Awards
Wisden Cricketer of the Year 1983
Retirement
1992 after World Cup victory
Post-retirement Years
In 1995, 32 year old Imran Khan married 21 year old British socialite Jemima Goldsmith in Paris. The wedding made headlines as she converted to Islam and learned Urdu before the marriage. The interfaith union resulted in two sons but ended amicably in divorce in 2004.
During his retirement from cricket, Imran Khan founded Pakistan's first cancer hospital in Lahore in 1994 in memory of his mother who had died of cancer. He raised funds and promoted awareness for the charitable Shaukat Khanum Memorial Cancer Hospital which continues to provide free treatment to poor patients.
Though retired from professional cricket, Imran remained a popular sports icon and cricket commentator throughout the 1990s. He also made forays into politics during this time by forming a new party and supporting General Pervez Musharraf's military government.
Entering Politics
After witnessing the persistent corruption in Pakistan's political sphere, Imran Khan founded his own party called Tehreek-e-Insaf (Movement for Justice) in 1996. The party aimed to challenge the two mainstream parties – PPP and PML-N – with a reformist agenda.
During the 1997 general elections, Imran Khan won his first seat in the National Assembly with his newly formed PTI party. However, due to inexperience Khan failed to turn the early hype for PTI into substantial wins.
In the coming years, Imran Khan continued expanding PTI nationwide, focusing efforts on building political momentum among the masses. He voiced criticisms of General Musharraf's alliance with America in the War on Terror after initially supporting him.
The 2013 general elections proved to be PTI's real breakthrough. The party emerged as the second largest in the National Assembly and formed a regional government in northwestern Khyber Pakhtunkhwa province. Imran Khan's political legitimacy was clearly growing.
Riding this wave, Imran and PTI staged massive rallies and protests in 2014 against alleged rigging and corruption by the ruling PML-N party. The goal was to dethrone the Sharif political dynasty controlling the government. These protests catapulted Imran into the limelight as the major opposition leader.
Table 3: Imran Khan's Political Milestones
| Year | Event |
| --- | --- |
| 1997 | Contested general elections but won only one seat |
| 2002 | Elected member of National Assembly |
| 2013 | PTI emerges as 2nd largest party in elections |
| 2014 | Led major rallies and protests against PML-N government |
| 2018 | PTI wins majority – Imran becomes 22nd Prime Minister |
Prime Minister and Later Years
The tides finally changed in Imran Khan's favor during the 2018 general elections. PTI clinched victory by winning a majority of seats, paving the way for Imran to become the 22nd Prime Minister of Pakistan.
As PM, Imran introduced a reformist agenda focusing on anti-corruption drives, strengthening institutions, reviving the economy and alleviating poverty. However, his critics argued lack of political experience led to an ineffective tenure.
On foreign policy, Khan aimed to shift Pakistan's historically close ties with America towards stronger alignment with China and the Middle East. He also worked to improve Pakistan's image abroad as an emerging economy and regional peacemaker.
Imran Khan's rule was marked by ups and downs managing various crises – the military standoff with India, COVID-19 pandemic, rise of extremism and strained relations with the military. Nevertheless he maintained popularity among his PTI voter base.
In April 2022, rising inflation and dissidents within his coalition resulted in Imran Khan losing a no-confidence vote in the National Assembly. This dissolution of his government cut his term as PM short after 3.5 years in power.
Though ousted as Prime Minister, Imran Khan continues leading PTI as opposition in the political sphere. He has criticized the new coalition government and called for fresh general elections. For now, he aims to contest the next elections and regain power once again.
Legacy and Leadership Style
The Oxford-educated Imran Khan came to be known as Pakistan's first "celebrity politician" leveraging his cricket fame into popular appeal. His charismatic public speeches and savvy use of media galvanized the masses, especially the younger generation.
Imran introduced a bold anti-corruption narrative to Pakistani politics which found huge appeal across classes. Even critics admit no charges of personal corruption were ever proven against the idealistic leader known for his simple lifestyle.
While lauded as visionary, self-righteous and principled by supporters, his opponents consider him politically naive, intolerant and stubborn. But few dispute Imran's sincere mission to reform Pakistan, even as PM.
Beyond politics, Imran's charity work with Shaukat Khanum Cancer Hospital and Namal University changed many lives. He managed to turn his legendary cricket career and high profile into lasting contributions for Pakistan's welfare.
Conclusion
Imran Khan has undeniably led one of the most extraordinary public lives as both a sports star and politician of Pakistan. From winning the 1992 Cricket World Cup to becoming Prime Minister two decades later, his journey has been an epic and unlikely one.
While his inability to complete a full term as PM is considered a failure by some, he managed to reshape Pakistan's political landscape with his reformist vision. As he continues determinedly leading the opposition, Imran Khan's eventful story seems far from over just yet. His second act in politics promises more suspense, drama and surprises in store from the charismatic leader.