Komal Meer has quickly become one of Pakistan's most sought after young television actresses. With her sharp acting skills, charming screen presence, and diverse roles, she continues captivating audiences.
This article provides a closer look at Komal Meer's background along with her acting career journey so far.
Key Info
Full Name
Komal Meer
Birthday
February 2, 1992
Birth Place
Karachi, Pakistan
Parents
Meer Hayat & Seema Begum
Siblings
1 younger brother (Faizan Meer)
Spouse
Not yet married
Children
None
Occupation
Actress
Years Active
2014 – present
Dramas
25+
Awards & Nominations
Hum Award for Best Soap Actress (2022)
Lux Style Award for Best TV Actress nomination (2022)
Below we detail key aspects of her background along with Komal's acting work and meteoric rise to fame.
Early Life & Family Details
Komal Meer was born on February 2nd, 1992 in Karachi, Pakistan. Her family hails from Meerpurkhas in the Sindh province, which she also considers her ancestral hometown.
Her father Meer Hayat is a businessman while her mother Seema Begum is a homemaker. Komal has one younger sibling, a brother named Faizan Meer.
Since childhood, Komal took interest in the arts. She enjoyed modeling and experimenting with fashion from a young age.
After completing her matric education from a local school, she went on to earn her intermediate degree at St. Joseph's College For Women.
Later on she pursued a Bachelors in Commerce externally while beginning to model and act professionally.
Personal Life
Komal maintains a private personal life, rarely discussing relationships or plans for marriage publicly. She comes from a supportive family who encourage her acting career.
Her hobbies and interests include:
📽 Watching films
🤸‍♀️ Doing yoga
🎸 Playing guitar
🖌 Painting
🤩 Exploring new restaurants
Though unmarried currently with no children, Komal hopes to start a family someday without abandoning her acting commitments.
Modeling & Acting Beginning
Komal's professional journey began as a model during her late teens. She appeared in various television commercials and brand campaigns throughout her early 20s.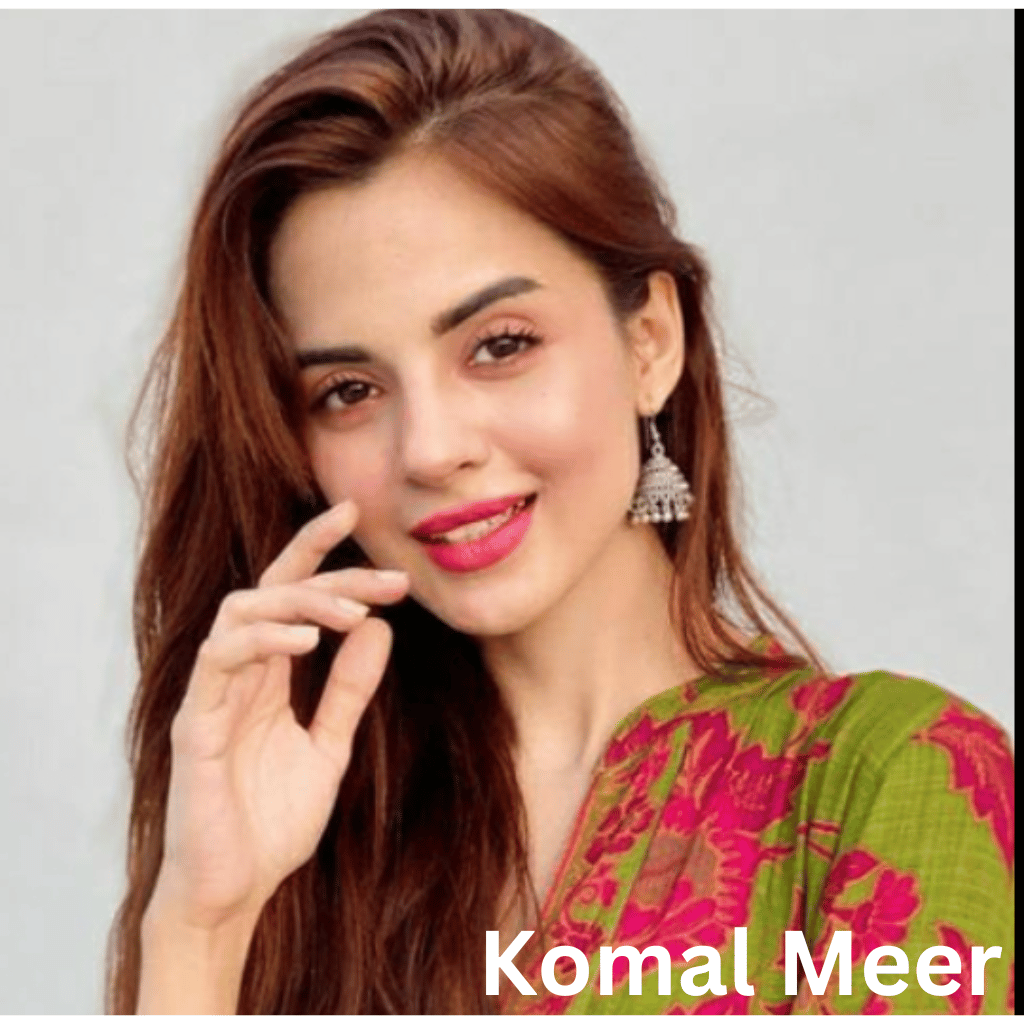 Her graceful demeanor and ethereal beauty made her an in-demand model. But Komal aspired to transition into acting.
In 2014, she made her acting debut in a supporting role for the Hum TV drama Mere Meherbaan. Though a minor character, she made her presence known.
Her talent and potential shined through from the very beginning. Komal soon earned increasing prominence in successive dramas.
Breakthrough Dramas
Over the next few years, Komal took on more substantive characters in acclaimed serials like Dil Banjaara (2017) and Ranjha Ranjha Kardi (2018).
But her major breakthrough came in 2019 with back-to-back standout performances in Kaisi Hain Dooriyan and Deedan.
Kaisi Hain Dooriyan
In this emotionally heavy drama, Komal depicted the role of Arzoo – a young woman battling blood cancer bravely while finding love reluctantly.
Her moving portrayal of Arzoo's helplessness and quiet tenacity left viewers in tears. Komal handled the stark character transformation masterfully.
Critics praised her outstanding acting chops. Her work established Komal as an elite rising talent with the ability to captivate deeply.
Deedan
Shortly after came another hard-hitting serial centered around violence against women in Pakistan. In Deedan, Komal played Saba, a battered wife seeking justice after being burned by her vengeful in-laws.
She delivered a masterclass depiction of trauma and courageous resilience. Despite the grim storyline, Komal shone brightly in a complex role that demanded high emotional intelligence.
Viewers connected intensely with her heart-wrenching predicament. Her moving performance in Deedan proved she had officially arrived as a supreme acting talent.
Since 2019, Komal's streak of impressively authentic and dimensional characters has continued in various hit serials. She displays sharp understanding of human psychology in her expressions and delivery.
Whether a hopeless romantic, defiant victim, cunning antagonist, or comedic relief – Komal morphs fully into each role like a chameleon. She makes every personality believable and relatable.
Recent Notable Dramas
Some of Komal's recent memorable roles that have expanded her versatility include:
Sinf-e-Aahan (2021)
In this historic drama saluting the Pakistan Air Force women's division, Komal portrayed the timid but earnest Pariwesh Jamal. Her endearing supporting role balanced the show's intense action plotlines.
Dour (2022)
As the manipulative trophy wife Mayra in this blockbuster serial, Komal ventured into vixen territory. She embraced the cunning, materialistic anti-heroine role with aplomb and layers of complexity.
Mujhe Pyaar Hua Tha (2022)
Returning to delicate emotional ground, Komal stars as the lead Hania in this romantic tragedy spanning decades. As Hania transforms from naive girl to broken woman hardened by life's cruelty over time, Komal makes the passage utterly believable through profound emotional beats.
Awards & Nominations
Komal has garnered well-deserved accolades from the start of her television career. But recently her awards haul has accelerated as her actresses profile increases exponentially.
Hum Award for Best Soap Actress (2022)
Lux Style Award nomination for Best TV Actress (2022)
Galaxy Lollywood Award for Best Actress nomination (2021)
Galaxy Lollywood Award for Best Actress Drama Series nomination (2020, 2021)
Hum Award for Best Supporting Actress nomination (2020)
Considering lead film roles and global projects reportedly on the horizon, we expect Komal's rise to continue blazing trails with even brighter accolades ahead.
What Makes Komal Stand Out
Among Pakistan's most gifted young television stars, several qualities make Komal exceptionally brilliant:
Phenomenal emotional range – She conveys incredible depth of feeling spanning happiness, despair, rage, confusion, and hope through profound expressions.
Adaptability – Komal morphs completely into vastly diverse characters like a shape-shifter. No role remains beyond her literary understanding or creative reach.
Magnetic charisma – An inherent luminous aura and genuineness instantly grabs viewer's attention onscreen. Her natural charm is impossible to ignore.
Maturing finesse – With increasing experience, Komal's nuanced delivery, gravitas, and subtlety continues to grow richer. She inhabits roles very convincingly.
Worldly intelligence – Extremely well-spoken and insightful during interviews, she articulates her artistic intentions smartly through a modern lens.
Komal at just 31 years of age shows wisdom and talent far beyond her years. While her mesmerizing beauty captures gazes instantly, its the sheer brilliance she radiates onscreen that makes her unforgettable.
What's Next
Having proven her acting diversity and excellence across many dream roles already, Komal hardly faces limitations.
She has expressed interest in complex lead film characters and international projects. Reports indicate collaborations among Bollywood directors may also materialize soon.
With versatile talent allowing her to disappear thoroughly into any intriguing persona, we expect Komal's ascending trajectory to push new boundaries ahead.